Lithuania 2023 5 euro Role of the Lithuanian Catholic Church in unarmed resistance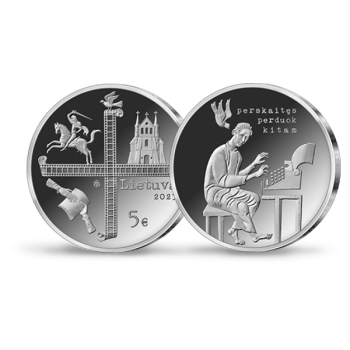 The reverse of the coin features the carrier of truth, writing words inspired by the Holy Spirit from the Middle Ages to the present day and carrying an important message that must be communicated to the world. This man is an evangelist depicted in the style of a medieval miniature, but instead of writing by hand, he types. The dove chirping in his ear symbolises the Holy Spirit, his stole represents the calling of the writer, his bare feet highlight his poverty, and his typewriter bears witness to the era in which he is writing. The composition incorporates the inscription "Pass on after reading".
The obverse of the coin features a cross formed by microfilms – the same medium through which issues of the Chronicle of the Catholic Church in Lithuania spread around the world. According to the traditional composition of the coat of arms, areas divided by the cross feature the Vytis, the symbol of the coat of arms of the Lithuanian state which was being fought for, the church of Simnas, the place of origin of the Chronicle of the Catholic Church in Lithuania, and the moment of handing over the publication (pass on after reading). On the right, the composition bears the inscription LIETUVA (LITHUANIA), the year of issue (2023), the denomination (€5) and the mintmark of the Lithuanian Mint. The top of the composition features a dove carrying the microfilm cross. This represents the Holy Spirit, inspiring courage, and references the spread of the Chronicle of the Catholic Church in Lithuania.
Denomination - 5 euro
Weight - 12.44 g
Quality - Proof-like quality coin with box and certificate
Diameter - 28,70mm
Composition - Silver Ag 925
Mintage - 2'750 pcs.
Country of origin - Lithuania
Year of release - 2023

Latest