Cyprus 2023 Euro coins BU set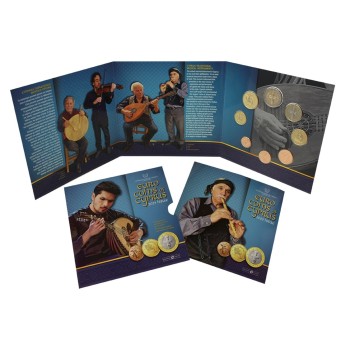 The €1 and €2 coins depict a cruciform idol from the Chalcolithic period (3000 BC). This characteristic example of the island's prehistoric art reflects Cyprus's place at the heart of civilisation and antiquity.
Featured on the 10, 20 and 50-cent coins is the Kyrenia ship, a trading vessel which dates back to the fourth century BC and a symbol of Cyprus's seafaring history and its importance as a centre of trade.
The 1, 2 and 5-cent coins show the moufflon, a species of wild sheep found on Cyprus and representative of the island's wildlife.
The euro coin series comprises eight different denominations: 1, 2, 5, 10, 20 and 50 cent, €1 and €2. The euro coins have a common side and a national side. The national side indicates the issuing country. The common sides of the coins were designed by Mr Luc Luycx of the Royal Belgian Mint.
They show images of the European Union or of Europe and symbolise the unity of the EU. The 5, 2 and 1 cent coins show Europe in relation to Africa and Asia on a globe.
You can use any euro coin anywhere in the euro area.
Weight - 42,92 g.
Quality - BU (Brilliant Uncirculated)
Nominal - 3,88 euro
Composition Bimetallic - various
Circulation - 5'000 pcs.
Country of origin - Cyprus
Year - 2023
Latest