Ireland 2004 Euro coins BU Set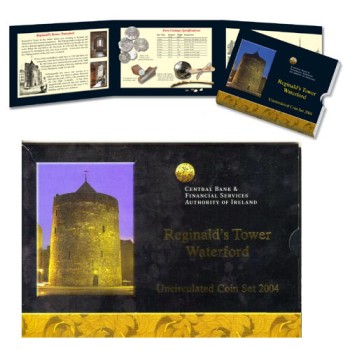 Reginald's tower in Waterford
The Government of Ireland decided on a single national design for all Irish coin denominations. They show the Celtic harp, a traditional symbol of Ireland, decorated with the year of issue and the inscription "Éire" − the Irish word for Ireland. The harp shown was designed by Jarlath Hayes. Edge lettering of the €2 coin: 2**, repeated six times, alternately upright and inverted.
The euro coin series comprises eight different denominations: 1, 2, 5, 10, 20 and 50 cent, €1 and €2. The euro coins have a common side and a national side. The national side indicates the issuing country. The common sides of the coins were designed by Mr Luc Luycx of the Royal Belgian Mint.
They show images of the European Union or of Europe and symbolise the unity of the EU. The 5, 2 and 1 cent coins show Europe in relation to Africa and Asia on a globe.
You can use any euro coin anywhere in the euro area.
Denomination - 3.88 euro
Weight - 42,92 g.
Quality - BU (Brilliant Uncirculated)
Diameter - variuos
Composition - Bimetallic - various
Mintage - 40'000 pcs.
Country of origin - Ireland
Year of release - 2004

Latest