Germany 2020 10 euro An land G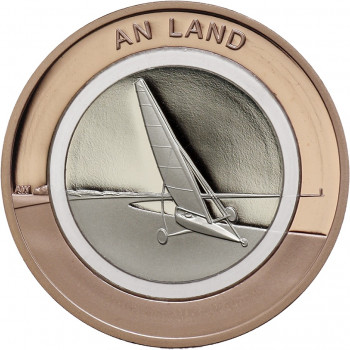 The obverse of the coin depicts a very interesting and niche sport - land sailing. It is a sport whose home is where the earth meets water. The design of the coin distinguishes these main and most important features of this incredible sport. The land yacht, which is portrayed in very elegant, minimal and simple shape, is also pictured in a wide and open landscape. The coin also bears the German inscription "AN LAND", which means "on the ground" when translated into Lithuanian.

Reverse: The reverse of the coin depicts an eagle with wide spreaded wings and a circle of 12 European stars. The coin also bears the country of origin of the coin - "BUNDESREPUBLIK DEUTSCHLAND", the value and denomination of the coin, the year of mintage and the mintmark marked with the special symbol – "A" (Berlin), "D" (Munich), "F" (Stuttgart). , "G" (Karlsruhe) and "J" (Hamburg). Depending on where the coin was minted, such a mark appears on the reverse.
Weight - 9.8 g.
Diameter - 32.5 mm.
Quality - UNC (Uncirculated)

Composition - copper and nickel with polymer ring
Country of origin -Germany
Year - 2020
Latest